Heuberger Subaru Community Involvement
Heuberger Subaru
Community Involvement
If you're looking to do business with a local car dealership that believes in giving back to the community, Heuberger Subaru is here for you. The team at ourSubaru dealership in Colorado Springs, is proud of all the charities, organizations and nonprofits we lend a helping hand to through the Subaru Love Promise — our full-fledged commitment to making the world and our community a better place for everyone. If you have questions about our current initiatives, want to get involved with these charities or are interested in partnering with our Colorado Subaru dealer, please don't hesitate to reach out!
Heuberger Subaru Is Dedicated to the Love Promise
We love working with organizations of all sizes and types in order to make a difference in the communities we live and work in. Through the Love Promise, our nearby Subaru dealer is able to make a positive impact and support those in need. Check out some of the causes we're involved in andcontact Heuberger Subaruto get additional information.
Love Promise Stories from Heuberger Subaru
Subaru and Heuberger Subaru believe in making a positive impact on the communities in which we live and work. We uphold that belief through our Love Promise Community Commitment. Every month, we select inspiring stories from customers and partners from around our area who strive to support our collective commitment and feature them here.
Victory Service Dogs
Heuberger Subaru is delighted to work withVictory Service Dogs— a local nonprofit that provides veterans with service dogs. "Service dogs can really make a big difference for someone who is struggling with PTSD, traumatic brain injuries or a series of different things that can happen to you as a result of military service," said Alex Gauthier, director of marketing for Heuberger Motors. "Unfortunately, it is very difficult for a service member to actually get a dog. The Veterans Affairs Office can provide them, but there's a huge waiting list. And to get one on your own, it would cost around $30,000." Thanks to this incredible partnership, we're able to help veterans who are struggling with traumatic brain injuries or post-traumatic stress disorder.
---
El Paso County Dog Parks
The Bear Creek Dog Park was established in 1997 at the request of citizens who wanted a safe place to let their dogs off-leash. It is now the most heavily used facility in the County's park system with 90,000 visitors bringing their dogs to the park every year. Users and supporters of the Bear Creek Dog Park contribute thousands of volunteer hours and donations each year to help maintain the nearly ¾ mile long primary trail which loops through the 25-acre site as well as several other shorter social trails which provide a variety of terrain. The dog park saw renovations to the facilities in 2012 including a dog drinking fountain and dog washing area. An agility training area opened in April 2014.
---
Heuberger Subaru Lights Up Custer County — Reggie F
Heuberger Subaru's Love Promise Lights Up Custer County Colorado Heuberger Subaru delivers so much more than a great ride. Heuberger sets the example for Subaru's "Share the Love Promise." Heuberger Service Manager, Cole Collins, was making a drive from Heuberger Subaru in Colorado Springs to Westcliffe, Colorado when he came upon a first responder helping a citizen on the roadside. Collins' immediate concern was for the safety of the officer whom he could barely see on the dark and winding roadside. Collins noted that Custer County Colorado is an International Dark Sky Community, meaning there is only ambient light along the roadways, which can be extremely dangerous for citizens and first responders. After much research Collins decided to reach deep into his own pocket to purchase some personal body lights for the county's emergency responders. Upon hearing how their service manager had once again "Shared the Love" in a local community; and further recognizing the deep need and benefit of each emergency responder in Custer County having his/her own personal body light, dealership owners Gunnar and Sherri Heuberger, stepped up Subaru's Love Promise to purchase a safety light for each and every Custer County emergency responder. On November 3, 2021, Heuberger Subaru's Cole Collins and Alex Gauthier traveled again to Westcliffe with a Subaru full of BBQ and Guardian Angel Safely Lights to present to the county's emergency responders. Commissioner Kevin Day was present and expressed his gratitude to Heuberger Subaru for providing another way to protect those serving with Custer County's EMS, Sheriff's Office, and Fire Districts. More than one hundred responders and community members joined Heuberger Subaru at the Wet Mountain Fire District station to feel the Love. Cole Collins presented each emergency responder with a personal safety light for use while they are serving and protecting others. Custer County Sheriff, Shannon Byerly, explained that the Guardian Angel lights presented by Cole and Alex will be carried on vests or other personal gear and provide drivers with advanced warning when they are approaching a traffic incident or other situation where responders on are on the roadway. Byerly expressed sincere gratitude to Cole, Alex and Heuberger Subaru "for their generous donation to our safety and visibility while we respond to county emergencies." WMFPD Chief Matt Nolting added, "We are grateful to have the support of Heuberger Subaru and another layer of safety for our team." Custer County is proud to have residents like Cole Collins who desire to protect those who help to protect others. After enjoying the barbecue dinner from Heuberger the responders were entertained by learning how to operate their new safety lights. Thank you Heuberger Subaru for keeping the promise and "Sharing the Love" with Custer County's first responders.
---
El Paso County Parks — Dana N
We are stronger and better, together. Partnership with Heuberger Subaru has helped sustain, expand, and innovate programs and recreation at parks, open spaces, and trails within El Paso County. El Paso County Parks encompasses over 8,000 acres of parks and open space, 130 miles of trails, two award winning nature centers, and over 1,000 environmental education programs. Parks staff, volunteers, and partners work diligently year-round to ensure we provide opportunities to explore, engage, and celebrate in our County Park system. During an unprecedented year of challenges for our community we are proud to offer citizens the opportunity to freely adventure and provide safe connections with nature. 2021 marks the 50th anniversary for El Paso County Parks. Our mission for the 50th anniversary celebration is to bring greater awareness, understanding, and appreciation for the resources our County naturally has. We are dedicated to building the legacy of El Paso County Parks and being mindful of our responsibility to be stewards of the resources and lands that have been entrusted to us. Partnership with Heuberger has been integral to the success of our mission. The intentionality in which Heuberger Subaru has partnered with El Paso County Parks has allowed us to provide sustainable resources to the community to share the love for our wonderful county and our unique and treasured Bear Creek Dog Park, Fox Run Dog Park and Nature Centers.
---
Scoop the Poop Partnership — Beth D
Our organization, the Trails and Open Space Coalition (TOSC), is our community's advocate for our local trails, parks and open spaces. One of the biggest complaints we hear from our trail users is about the dog waste left on our trails. This year, we partnered with Heuberger Subaru to host an event aimed at removing dog waste from six of our most popular open spaces. On May 8, TOSC and Heuberger staff set up stations at Blodgett Open Space, Bear Creek, Yucca Flats in Palmer Park, Red Rocks Open Space, Stratton Open Space, and Ute Valley and distributed dog waste bags, asking trail users to pick up any waste they encountered during their hike. At the end of the event, nearly 150 trail users cleared over 135 pounds of waste from the trails. Additionally, TOSC and Heuberger staff were able to speak with over 750 individuals about the harms of leaving dog waste in our open spaces. Trail users, park rangers and outdoor advocates all expressed their appreciation for the initiative and have asked for it to be duplicated.
---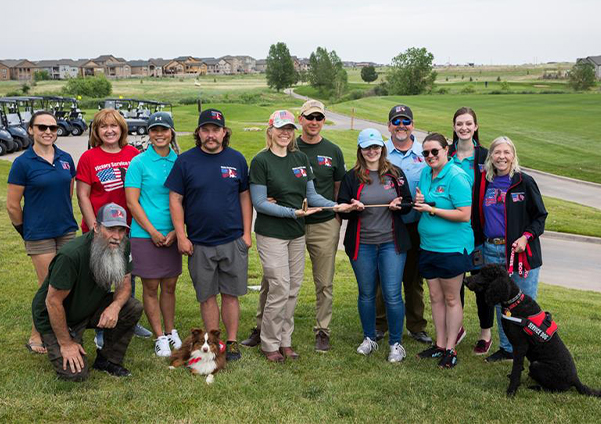 Victory Loves Heuberger Subaru! — Lisbeth K
Victory Service Dogs is a Colorado Springs 501(C)(3) organization. Since 2015, our mission has been to serve our local disabled veterans and first responders by providing free, customized service dog training. As a small organization that had grown purely by word of mouth, we were absolutely floored to have been singled out by Heuberger Subaru. In 2020, we were selected as the local charity of choice for Share the Love (which happened to raise the largest donation we've ever received). From this initial connection with Heuberger, they have gone on to sponsor one of our graduation events as well as, most recently, our Inaugural Victory Service Dogs Charity Golf Tournament this past summer to honor the launch of our brand new children's program, VictoryKids. This event was integral to growing our donor base and making business connections with individuals we never would have met previously. We raised over $20,000 from this tournament which fully funded 2 children through our VictoryKids program! In total, the funds they have raised and donated to us have made a tangible difference – we have been able to fully fund 9 veteran service dog teams and provide a full scholarship to 3 children! We are deeply grateful for the relationship forged with Heuberger and for their trust in our organization. We wouldn't be where we are now without them.
---
The perfect partner! — Abragail K
Heuberger has been a long-time partner of Pikes Peak Marathon, Inc. They have been involved in all of our races: Garden of the Gods 10-Mile & 10K, Barr Trail Mountain Race, Pikes Peak Ascent, and Pikes Peak Marathon. As larger races in Colorado, we are increasingly conscious of our environmental footprint. We actively work to reduce trash and keep our favorite mountain, and our favorite trails, pristine. We are deeply involved with Trails and Open Space Coalition and El Paso County Search and Rescue. Our world-renowned races attract runners from all over the United States and Internationally. We drive economic impact throughout the summer, exposing thousands of people to the wonders Colorado Springs and Manitou Springs have to offer. We couldn't do any of that without the support of our partners like Heuberger. Each year they have gone above and beyond to support our races, from creating Team Marmot and organizing a large group of volunteers to providing lead vehicles and chauffeuring winners off the mountain. Heuberger has always gone above and beyond, providing a presence that not only strengthens our brand, but highlights what we can do together.