Finance

---
Car Loan & Subaru Lease Colorado Springs
Welcome to the Heuberger Subaru Finance Center for Colorado Springs car loans and lease programs. Use our online finance application to get a quick and accurate response on financing for your next new or used car. We'll do whatever it takes to put you in that new Subaru Legacy, Impreza, Outback, BRZ, Forester, or XV Crosstrek in the Colorado Springs area near Fort Carson, Fountain and Monument. Your financing information is sent securely in an encrypted format, and we'll get back to you in as little as a day's time to complete the process.
Heuberger Subaru has everything you need to make your next new or used car purchase your best. From our variety of affordable car loan options for our Colorado Springs customers, to new Subaru, and used cars in Colorado Springs, we've got you covered.
Mon - Fri

7:00 AM - 9:00 PM




Sat

7:00 AM - 8:00 PM




Sun

Closed
Many car shoppers depend on a combination of finance and loans to take home their desired vehicle. While some decide to go through their bank or credit union to finance, a large amount of people decide to do what's called "dealership financing." Dealership financing is usually considered the more convenient option, as you buy your vehicle and finance it in the same location, but there are more reasons to go to the dealership and get a loan through it.
Heuberger Motor's long-standing relationship with many banks in Colorado Springs, CO means we offer buyers a unique selection of financing options. Periodically, we will have the ability to offer special programs and give you low-rate deals that purely finance companies do not.
Things to Know Before Applying
You can do many things to get ready before you even arrive at our Colorado Springs Subaru dealership. First, do your research! It's important to know what your credit report looks like before looking at cars. Negative information, such as late payments, high balances on credit cards, or even errors you were not aware of can make it almost impossible to get credit for a car purchase. Not only that, but a poor credit score can raise the rates of your loan, which can make a vehicle you once thought was affordable way out of your price range.
After you get a clear view of what future creditors will be seeing on your report, you can estimate a price range. Check online and different car buying guides to look for vehicles that best match what you're looking for and your price range. If you have credit that needs work, or a tight budget, this step is crucial.
Be sure to look at all of the current finance rates being offered by dealerships, credit unions, and banks near you. One of the worst things a buyer can do is end up locked in an unrealistic finance plan because they are confused or feel pressured to make a decision. Being knowledgeable about what your options and limits are is the easiest way to combat this. While, ideally, everyone would finance through our dealership, we realize that's not always the case. We want our customers to be fully educated on their financial options before they visit us in person.
What is a Credit Score Used For?
A credit score is a number between 300-850, with a higher number meaning you are a low-risk borrower. This number is created by using the information in your credit report. It's used to show creditors, like financial institutions and banks, the risk or likelihood that a person will become delinquent and not pay their loans. The higher the number, the lower risk--and thus, the lower the interest rates. Likewise, if you have a low credit score, you are a high risk borrower, meaning your interest rates will be higher. The FICO score, graded between 300 and 850, is the most widely accepted, and is used by approximately 90 percent of money-lending institutions.
Your payment history makes up the majority of your credit score. This includes thinks like delinquencies on past loans and late payments. The amount you owe on your accounts and any other loans is also heavily weighed. How long you've had credit history, the different types of credit you've used, and the amount of new lines of credit you've opened recently also factor into your score, though they're less important than payment history. If you apply for and open many lines of credit in a short amount of time, it can lower your score, increasing your borrowing risk. All of these factors are calculated to create a unique score for everyone that shows their risk as a borrower.
Financing a Used Car
A lot of lenders, including banks, will normally require a down payment of 20%. This can sometimes make buying a brand-new car out of your price range. And if a buyer has credit challenges, they might have better luck with loans in the used-vehicle market. These cars are priced significantly lower than new cars, and even though they sometimes have a higher interest rate, the entire cost is lower. This means a better chance of being approved for a loan!
But remember, some vehicles that are more than seven years old might not qualify for financing. New cars can be financed for longer terms than used cars, too. It all makes sense: if you finance a five-year-old car for 66 months, you'll still be making monthly payments when the car is ten years old! By that point, the car will probably need a lot of maintenance, and it will no longer be a sound investment.
Here at Heuberger Motors, it's quick and simple to get approved for a car loan. We know how stressful and sometimes embarrassing past credit issues can be, but we're here to help our customers get through those situations. Contact us today to see how we can help you buy your next vehicle!

Want assistance with a new vehicle?
Call 719 866 6411
Want assistance with a certified or pre-owned/used vehicle?
Call 719 866 6413
*Se Habla Espanol! Mi linea directa (719) 332-8043. Pregunta por Magaly Rivera
Your privacy is important to us.
Heuberger Subaru takes your privacy seriously and does not rent or sell your personal information to third parties without your consent. Read our privacy policy.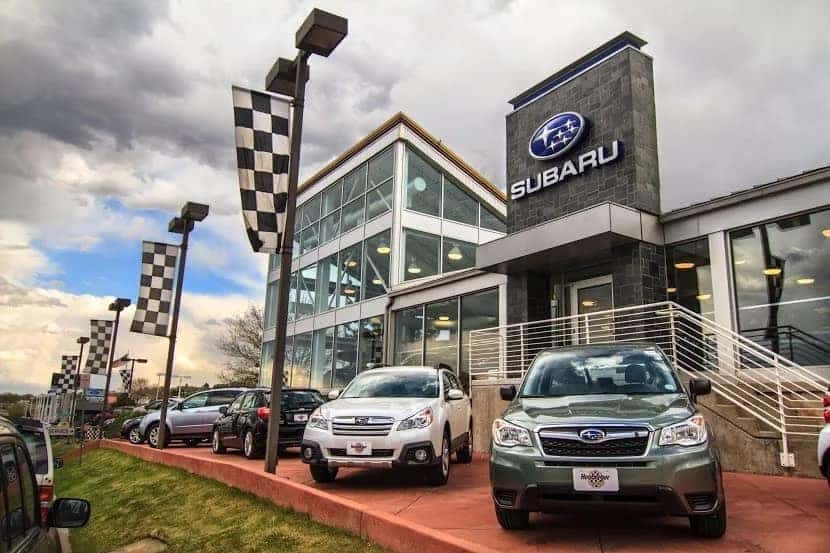 Heuberger Subaru
Local Auto Finance Center Offering Subaru Leases and Loans
Serving: Colorado Springs, CO
Local Phone: (719) 475-1920
1080 Motor City Dr, Colorado Springs, CO 80905