The 2021 Subaru Love Promise Community Commitment Award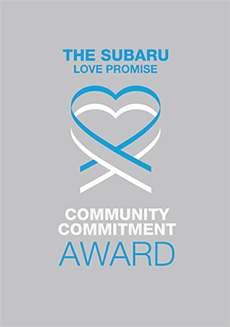 We've been nationally recognized for our dedication to our community and the Subaru Love Promise.
We're honored to receive the 2021 Subaru Love Promise Community Commitment Award. This award nationally recognizes Subaru retailers who are making the world a better place while demonstrating an outstanding commitment to supporting passions and causes in local communities. These efforts are focused in important areas such as the environment, community, health, education, and pets.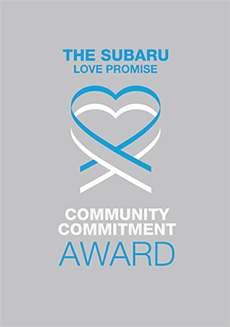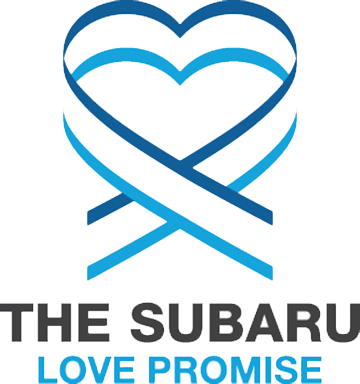 What is the Subaru Love Promise?
Subaru and our retailers believe in making the world a better place and the Subaru Love Promise is our vision of respecting all people. This is our commitment to show love and respect to our customers and to work to make a positive impact in the world.
How is Heuberger Subaru dedicated locally to the Love Promise?
We have a long standing commitment to the community and the various organizations that help keep the Colorado Springs community growing strong. We support organizations such as: The Trails and Open Spaces Coalition, The Humane Society of The Pikes Peak Region, Lucky Dog Rescue, UpADowna, The Triple Crown of Running, Really Outrageous Adventure Race, FiBArk, Territory Days, Walk-Run-Ride For Heroes, Bear Creek Dog Park, El Paso County Parks and Recreation, Fox Run Dog Park, Air Force Falcons and many more wonderful organizations and events.
Humane Society of the Pikes Peak Region, Lucky Dog Rescue, Teller County Regional Animal Shelter
Trails and Open Spaces Coalition, FiBArk, Rocky Mountain Field Institute
UpADowna, Chicks Climbing and Skiing
Youth Sports, Bear Creek and Fox Run Dog Parks
Triple Crown of Running, Starlight Spectacular
Love Promise Stories from Heuberger Subaru
Subaru and Heuberger Subaru believe in making a positive impact on the communities in which we live and work. We uphold that belief through our Love Promise Community Commitment. Every month, we select inspiring stories from customers and partners from around our area who strive to support our collective commitment and feature them here
Mr. Punkin's New Beginning - Jodi W
Teller County Regional Animal Shelter (TCRAS) is a small rural mountain shelter sitting at the north base of America's Mountain, Pikes Peak. Rural shelters don't often have the opportunity to partner with a large organization that shares our mission of "Fostering Hope & New Beginnings." This partnership has provided our shelter guests with the generous support necessary to receive extensive medical care via our Mighty Medical Fund. Heuberger Subaru has been a valued partner through Share the Love and Subaru Loves Pets/Make a Dogs Day opportunities and that partnership has changed the trajectory of our little shelter in Divide while improving the lives of our shelter guests. Paramount to our mission is the freedom from pain, injury and disease and our Mighty Medical Fund provides extensive medical care above routine spay and neuter. Mr. Punkin came to TCRAS as an injured stray via Teller County Animal Control. It became clear that Mr. Punkin was a victim of animal cruelty with visible scars and open wounds on his muzzle and missing tissue on each side of his mouth. It appeared to be a result of tying his muzzle shut for extended periods of time. Even though he had clearly suffered abuse, his sweet disposition was immediately apparent as he enjoyed being held in the arms of staff. Mr. Punkin required extensive medical care to heal his physical wounds and the loving hands of our staff to learn he was finally safe. Mr. Punkin was unable to attend Make a Dogs Day, but his social media presence prior to our event with Heuberger gained him a loyal following and a long list of potential families wanting to give this sweet boy a new beginning. He found his forever people, is now known as Jack, and keeps in touch with his many fans via his very own Instagram page! Without the generous support of Heuberger, our small shelter would not have the opportunity to save as many lives and offer the medical care our shelter guests need and deserve.
---
Heuberger Subaru Partners in the Park - Dana N
Part of El Paso County's mission for Parks is to provide responsible resource management for regional parks, trails, open spaces and nature centers. We have experienced a continued surge in usage this year and are depending on community partnerships like the one we have with Heuberger Subaru to fill the gaps. Heuberger Subaru has played a significant role in supporting Bear Creek and Fox Run Dog Parks. Through their partnership we have added new fencing, new lighting and resurfacing in our parking areas, improved ADA parking stalls, created a second entrance gate and continue to provide waste containers for bag distribution. Heuberger Subaru also supports our Nature Centers which hosted our first virtual fundraiser this year that literally kept our doors open for the summer during this challenging time. Heuberger Subaru's continued support keeps some of our community's most loved treasures well maintained and accessible to the public. Our outdoor community is thriving, and our children are still learning about their environment. We are grateful for your support, you are our "Love Story". Thank you!
---
Good luck for a black cat on Friday the 13th - Tiffany R
Who says black cats and Friday the 13th are unlucky? Sprite, a 4-year-old stray cat, knows those silly superstitions just aren't true. But his story didn't start off very lucky. Sprite arrived at Humane Society of the Pikes Peak Region as one sick kitty. Veterinary staff quickly diagnosed him with an upper respiratory infection and immediately started treatment. As he recovered, staff and volunteers diligently searched lost reports made through HSPPR's website, Craigslist, and Facebook with, you guessed it, no luck. But thanks to Heuberger Subaru and their Share the Love fundraising event, Sprite's luck would soon change. After a few weeks of treatment and recovery, Sprite was healthy and ready to find a new home. One Friday the 13th was Sprite's lucky day when he visited Heuberger Subaru during their Share the Love fundraising event and found his purr-fect match – one of Heuberger's very own! Heuberger Subaru loves pets, and HSPPR loves Heuberger Subaru! We're lucky to partner with them to save the lives of so many homeless and abused pets in our community through adoptions, behavior training, fostering, humane education, low-cost veterinary services, and other life-saving programs. Thank you, Heuberger Subaru, for accelerating our mission of a compassionate community where animals and people are cared for and valued.
---
Heuberger supports the inaugural Pikes Peak APEX - Micah R
When we worked to create the largest mountain bike event on the Front Range of Colorado, the 4-day Pikes Peak APEX, we knew we wanted Heuberger to be involved. With Heuberger's past support for outdoor endurance events in Colorado Springs and Subaru's past support of mountain biking, we knew this would be a perfect fit. As a non-profit event, our mission is to create a world-class event that drives economic impact to the area in order to improve the trails and open space in the Pikes Peak region for visitors and residents alike. It is always difficult to get a new event off the ground and having Heuberger's support made it easier from the start. Not only were we able to raise money for trail projects in the Colorado Springs area, but we had Subaru Support riders out on the course making sure all participants were taken care of. Heuberger was a perfect fit for our four day challenge event and we can't wait until next year!
---
Heuberger supports Ice Fest, a niche community - Ange T
CityROCK has been hosting Ice Fest for 12 years. What started as a small gym's way to embrace the cold temperatures of their shared space with an ice hockey rink turned into an internationally known event that celebrates the scratch and dangle niche climbing community while raising money for a good cause. Ice Fest is a 3-day event with an all-are-invited adult competition, youth competition, clinics, vendors, demos, and a mega raffle with proceeds going to a charity. Last year, thanks to our sponsors like Heuberger Subaru, we were able to raise over $2000 for The Access Fund and The American Alpine Club. This year, our sponsors like Heuberger Subaru will allow us to raise money for Protect Our Winters through our mega raffle, and through participating with their interactive vendor booth, offering the dry tool ice bucket challenge. Each year, Heuberger Subaru shows up with an awesome challenge that interacts with our spectators and competitors, psyching them up for the event and the raffle. Community is the heart of CityROCK. Heuberger Subaru makes our community stronger through their partnership, helping us support causes we believe in like Protect Our Winters and nonprofits that take care of our earth.
---
Heuberger Subaru/Chicks Climbing Empower Women - Kitty C
Heuberger Subaru has partnered with Chicks Climbing and Skiing for years to educate and empower women through mountain sports. Chicks employs the most experienced, certified female guides in the country to help women realize their goals in climbing. Often the confidence they build through successes in climbing enables Chicks participants to face daily challenges with more courage. The Hueberger Subaru Chicks Mt Baker Scholarship made it possible for one lucky lady, Madison Kinder, to attend the Chicks Mt Baker course Aug1-6, 2019. This was a particularly difficult course because the abnormally warm temperatures earlier in the year made the glacier on the standard route on the N Side of the mountain unclimbable and conditions on the S side were not much better. However, the team of eight participants -some of whom had minimal alpine climbing experience - learned the skills necessary to safely ascend and descent a high alpine peak in the Cascades in adverse conditions. The women met each other and their guides for the first time at a campground near the trailhead began the transformation into an accomplished team. Discussions included how to choose which and how much gear, clothes and food to carry. Following a hike several hours up to the edge of the glacier, more lectures included reading a glacier and navigation. Then we spent two days on the glacier practicing snow climbing technique, self-arrest, snow anchors, glacier travel systems, ice anchors, and crevasse rescue. On summit day, we left camp at 2am and climbed what appeared to be a straight-forward track up and around crevasses towards the summit. About three-quarters up the route, we encountered a guided group that had turned around shy of the summit because of a collapses snow bridge. They suggested we might be able to traverse all the way around the end of the crevasse, but were unsure if that terrain was climbable at all. As we ventured along the traverse, we encountered a group who was descending, and they shoveled steps in the upper lip of the crevasse above the collapsed bridge. A couple of hours later, we all stood on the summit! The descent seemed particularly tedious as we re-threaded the needle through the crevasses. After a 12.5 hour round trip to basecamp, we packed camp and descended to the trailhead. Back at the bar and grill, the final celebration felt well-deserved. In an interview with the Hueberger Chicks Mt.Baker Scholarship winner, Madison Kinder, she had this to say: "I was excited to be selected for the course because I wanted more training on snow and ice climbing skills that are used in the mountains. On this course, I learned about rope travel, terrain assessment, and crevasse rescue systems. I also met great people, had fun, and made the summit!" "I wanted to learn skills because its important to feel confident - especially to be able to handle the situation if my partner becomes hurt or ill and I need to take charge." "This course exceeded my expectations. The guides were exceptional in the skills they taught and the cooking!" "My advice to other women who are interested in scholarship is to sign up - even if you are not interested in all of the skills or don't know what skills you need. Some women on our course had never been in this kind of terrain and learned a lot." "My hight point was practicing self arrest. Everyone was laughing. It is a valuable skill to have and fun to practice." "My most challenging moment was when we were descending and I was in front of all eleven other women and had to test crevasses or snow bridges. Sometimes they were fine for me but maybe not others. That responsibility was challenging." "My husband and I happen to own a Subaru and it has been able to get us everywhere we want to go for adventure. We can fit all our gear in it or the rack on top and an sleep in it too." "My advice for women looking for adventure is to go for it. Sometimes as women its scary to enter in perceived high risk activities because they see so many men. But women are also successful. Just get instruction. Don't be afraid because it seems like it is not accessible to you."
---
Heuberger Subaru Shares the Love With RMFI! - Jennifer P
Thank you Heuberger Subaru for supporting the Rocky Mountain Field Institute for the 2nd year during the 2018-19 Subaru Share the Love event! As a result of the generation donation we received, RMFI was able to actively engage nearly 2,400 community volunteers in the hands-on care and stewardship of public lands in the Pikes Peak Region. Together we led 441 workdays (many happening on the same day) at 18 different project sites, worked with 2,374 volunteers and 154 youth conservation corps members, constructed 1.2 miles of brand new trail, completed 4 miles of critical trail improvements, closed and restored nearly 2 miles of rogue social trails, planted 2,500 trees, and constructed or maintained another 1,396 erosion control and stabilization structures. We couldn't do what we do without the generous support of our community partners and friends and we are honored to call Heuberger Subaru both a friend and partner in outdoor recreation and public land stewardship! Thank you!
---
Subaru Partners in the Park - Dana N
The "Partners in the Park" Program was created in 2009 to provide financial support for a designated community asset in the El Paso County Parks system. All donations are used exclusively for El Paso County Parks; to preserve open space, sustain park amenities and to ensure ongoing sustainability for a specific park. All donations are tax eductible.Without the generous contributions of our citizens, community partners and a multitude of volunteers, we couldn't operate our County Parks as efficiently or effectively as we do. The Partners in the Park program is a prime example of El Paso County's many public-private collaborations aimed at maximizing County resources while minimizing the cost to citizens. Thank you to Heuberger Motors, Subaru for supporting Bear Creek Dog Park since 2010. John Adams with Heuberger Motors, Subaru, Colorado Springs, CO is featured in our Partners in the Park Video. Enjoy!
---
Subaru and NWF Love the Earth! - Patty D
This was so much fun a couple weeks ago having Subaru help get our garden in!
---
I Sell Subaru's :) - Joshua B
I had just got into selling cars when my mom was getting over cancer. Her husband had packed her stuff thinking she was good as gone! He divorced her and got her an apartment, then stopped taking care of her in all aspects. I managed a night club and was laid off. I had to turn in my truck and only had car sales to turn to. I started with Chevy, but on a visit to see my mom, I saw she had not food and no way to get around. I asked for a transfer and was sent to their Subaru in Winterville, NC store! I fell in love with Subaru I will never sell anything but Subaru's!!!! I love the earth and I love people so this is a natural fit! I can't get one because of my voluntary repo, But as soon as I pay my truck debt off I'm going to drive one :) I am so lucky I found a place like Subaru!!!!!! I am truly blessed!!!
---