The 2021 Subaru Love Promise Community Commitment Award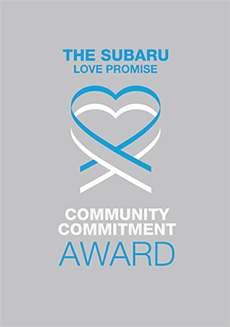 We've been nationally recognized for our dedication to our community and the Subaru Love Promise.
We're honored to receive the 2021 Subaru Love Promise Community Commitment Award. This award nationally recognizes Subaru retailers who are making the world a better place while demonstrating an outstanding commitment to supporting passions and causes in local communities. These efforts are focused in important areas such as the environment, community, health, education, and pets.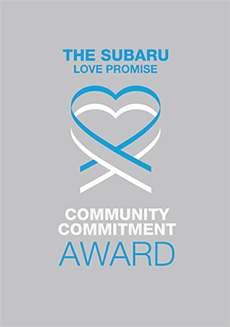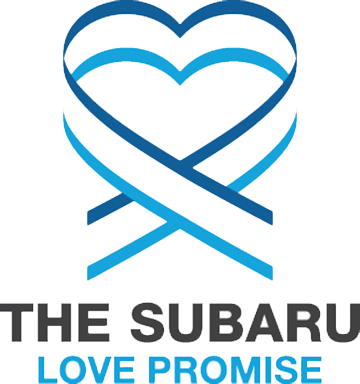 What is the Subaru Love Promise?
Subaru and our retailers believe in making the world a better place and the Subaru Love Promise is our vision of respecting all people. This is our commitment to show love and respect to our customers and to work to make a positive impact in the world.
How is Heuberger Subaru dedicated locally to the Love Promise?
We have a long standing commitment to the community and the various organizations that help keep the Colorado Springs community growing strong. We support organizations such as: The Trails and Open Spaces Coalition, The Humane Society of The Pikes Peak Region, Lucky Dog Rescue, UpADowna, The Triple Crown of Running, Really Outrageous Adventure Race, FiBArk, Territory Days, Walk-Run-Ride For Heroes, Bear Creek Dog Park, El Paso County Parks and Recreation, Fox Run Dog Park, Air Force Falcons and many more wonderful organizations and events.
Humane Society of the Pikes Peak Region, Lucky Dog Rescue, Teller County Regional Animal Shelter
Trails and Open Spaces Coalition, FiBArk, Rocky Mountain Field Institute
UpADowna, Chicks Climbing and Skiing
Youth Sports, Bear Creek and Fox Run Dog Parks
Triple Crown of Running, Starlight Spectacular
Love Promise Stories from Heuberger Subaru
Subaru and Heuberger Subaru believe in making a positive impact on the communities in which we live and work. We uphold that belief through our Love Promise Community Commitment. Every month, we select inspiring stories from customers and partners from around our area who strive to support our collective commitment and feature them here
The Pikes Peak APEX is supported by Heuberger - Micah R
The Pikes Peak APEX continues to be the highest profile mountain bike event on the front range of Colorado, and Heuberger Subaru has been there since the beginning. As a Founding Partner, Heuberger has not only financially supported our non-profit event but supports each and every participant with their Subaru Support Team. Each day of the four-day challenge, the Subaru Support riders hang out in critical spots on on the course and ride along with the riders to supply an extra inner tube, a snack, or just some words of encouragement as riders try to finish this bucket-list event. Thank you Heuberger and the the cyclists that help as support crew for making this year's event the best yet!
---
El Paso County Parks - Dana N
We are stronger and better, together. Partnership with Heuberger Subaru has helped sustain, expand, and innovate programs and recreation at parks, open spaces, and trails within El Paso County. El Paso County Parks encompasses over 8,000 acres of parks and open space, 130 miles of trails, two award winning nature centers, and over 1,000 environmental education programs. Parks staff, volunteers, and partners work diligently year-round to ensure we provide opportunities to explore, engage, and celebrate in our County Park system. During an unprecedented year of challenges for our community we are proud to offer citizens the opportunity to freely adventure and provide safe connections with nature. 2021 marks the 50th anniversary for El Paso County Parks. Our mission for the 50th anniversary celebration is to bring greater awareness, understanding, and appreciation for the resources our County naturally has. We are dedicated to building the legacy of El Paso County Parks and being mindful of our responsibility to be stewards of the resources and lands that have been entrusted to us. Partnership with Heuberger has been integral to the success of our mission. The intentionality in which Heuberger Subaru has partnered with El Paso County Parks has allowed us to provide sustainable resources to the community to share the love for our wonderful county and our unique and treasured Bear Creek Dog Park, Fox Run Dog Park and Nature Centers.
---
Scoop the Poop Partnership - Beth D
Our organization, the Trails and Open Space Coalition (TOSC), is our community's advocate for our local trails, parks and open spaces. One of the biggest complaints we hear from our trail users is about the dog waste left on our trails. This year, we partnered with Heuberger Subaru to host an event aimed at removing dog waste from six of our most popular open spaces. On May 8, TOSC and Heuberger staff set up stations at Blodgett Open Space, Bear Creek, Yucca Flats in Palmer Park, Red Rocks Open Space, Stratton Open Space, and Ute Valley and distributed dog waste bags, asking trail users to pick up any waste they encountered during their hike. At the end of the event, nearly 150 trail users cleared over 135 pounds of waste from the trails. Additionally, TOSC and Heuberger staff were able to speak with over 750 individuals about the harms of leaving dog waste in our open spaces. Trail users, park rangers and outdoor advocates all expressed their appreciation for the initiative and have asked for it to be duplicated.
---
Victory Loves Heuberger Subaru! - Lisbeth K
Victory Service Dogs is a Colorado Springs 501(C)(3) organization. Since 2015, our mission has been to serve our local disabled veterans and first responders by providing free, customized service dog training. As a small organization that had grown purely by word of mouth, we were absolutely floored to have been singled out by Heuberger Subaru. In 2020, we were selected as the local charity of choice for Share the Love (which happened to raise the largest donation we've ever received). From this initial connection with Heuberger, they have gone on to sponsor one of our graduation events as well as, most recently, our Inaugural Victory Service Dogs Charity Golf Tournament this past summer to honor the launch of our brand new children's program, VictoryKids. This event was integral to growing our donor base and making business connections with individuals we never would have met previously. We raised over $20,000 from this tournament which fully funded 2 children through our VictoryKids program! In total, the funds they have raised and donated to us have made a tangible difference - we have been able to fully fund 9 veteran service dog teams and provide a full scholarship to 3 children! We are deeply grateful for the relationship forged with Heuberger and for their trust in our organization. We wouldn't be where we are now without them.
---
The perfect partner! - Abragail K
Heuberger has been a long-time partner of Pikes Peak Marathon, Inc. They have been involved in all of our races: Garden of the Gods 10-Mile & 10K, Barr Trail Mountain Race, Pikes Peak Ascent, and Pikes Peak Marathon. As larger races in Colorado, we are increasingly conscious of our environmental footprint. We actively work to reduce trash and keep our favorite mountain, and our favorite trails, pristine. We are deeply involved with Trails and Open Space Coalition and El Paso County Search and Rescue. Our world-renowned races attract runners from all over the United States and Internationally. We drive economic impact throughout the summer, exposing thousands of people to the wonders Colorado Springs and Manitou Springs have to offer. We couldn't do any of that without the support of our partners like Heuberger. Each year they have gone above and beyond to support our races, from creating Team Marmot and organizing a large group of volunteers to providing lead vehicles and chauffeuring winners off the mountain. Heuberger has always gone above and beyond, providing a presence that not only strengthens our brand, but highlights what we can do together.
---
Mr. Punkin's New Beginning - Jodi W
Teller County Regional Animal Shelter (TCRAS) is a small rural mountain shelter sitting at the north base of America's Mountain, Pikes Peak. Rural shelters don't often have the opportunity to partner with a large organization that shares our mission of "Fostering Hope & New Beginnings." This partnership has provided our shelter guests with the generous support necessary to receive extensive medical care via our Mighty Medical Fund. Heuberger Subaru has been a valued partner through Share the Love and Subaru Loves Pets/Make a Dogs Day opportunities and that partnership has changed the trajectory of our little shelter in Divide while improving the lives of our shelter guests. Paramount to our mission is the freedom from pain, injury and disease and our Mighty Medical Fund provides extensive medical care above routine spay and neuter. Mr. Punkin came to TCRAS as an injured stray via Teller County Animal Control. It became clear that Mr. Punkin was a victim of animal cruelty with visible scars and open wounds on his muzzle and missing tissue on each side of his mouth. It appeared to be a result of tying his muzzle shut for extended periods of time. Even though he had clearly suffered abuse, his sweet disposition was immediately apparent as he enjoyed being held in the arms of staff. Mr. Punkin required extensive medical care to heal his physical wounds and the loving hands of our staff to learn he was finally safe. Mr. Punkin was unable to attend Make a Dogs Day, but his social media presence prior to our event with Heuberger gained him a loyal following and a long list of potential families wanting to give this sweet boy a new beginning. He found his forever people, is now known as Jack, and keeps in touch with his many fans via his very own Instagram page! Without the generous support of Heuberger, our small shelter would not have the opportunity to save as many lives and offer the medical care our shelter guests need and deserve.
---
Heuberger Subaru Partners in the Park - Dana N
Part of El Paso County's mission for Parks is to provide responsible resource management for regional parks, trails, open spaces and nature centers. We have experienced a continued surge in usage this year and are depending on community partnerships like the one we have with Heuberger Subaru to fill the gaps. Heuberger Subaru has played a significant role in supporting Bear Creek and Fox Run Dog Parks. Through their partnership we have added new fencing, new lighting and resurfacing in our parking areas, improved ADA parking stalls, created a second entrance gate and continue to provide waste containers for bag distribution. Heuberger Subaru also supports our Nature Centers which hosted our first virtual fundraiser this year that literally kept our doors open for the summer during this challenging time. Heuberger Subaru's continued support keeps some of our community's most loved treasures well maintained and accessible to the public. Our outdoor community is thriving, and our children are still learning about their environment. We are grateful for your support, you are our "Love Story". Thank you!
---
Good luck for a black cat on Friday the 13th - Tiffany R
Who says black cats and Friday the 13th are unlucky? Sprite, a 4-year-old stray cat, knows those silly superstitions just aren't true. But his story didn't start off very lucky. Sprite arrived at Humane Society of the Pikes Peak Region as one sick kitty. Veterinary staff quickly diagnosed him with an upper respiratory infection and immediately started treatment. As he recovered, staff and volunteers diligently searched lost reports made through HSPPR's website, Craigslist, and Facebook with, you guessed it, no luck. But thanks to Heuberger Subaru and their Share the Love fundraising event, Sprite's luck would soon change. After a few weeks of treatment and recovery, Sprite was healthy and ready to find a new home. One Friday the 13th was Sprite's lucky day when he visited Heuberger Subaru during their Share the Love fundraising event and found his purr-fect match – one of Heuberger's very own! Heuberger Subaru loves pets, and HSPPR loves Heuberger Subaru! We're lucky to partner with them to save the lives of so many homeless and abused pets in our community through adoptions, behavior training, fostering, humane education, low-cost veterinary services, and other life-saving programs. Thank you, Heuberger Subaru, for accelerating our mission of a compassionate community where animals and people are cared for and valued.
---
Heuberger supports the inaugural Pikes Peak APEX - Micah R
When we worked to create the largest mountain bike event on the Front Range of Colorado, the 4-day Pikes Peak APEX, we knew we wanted Heuberger to be involved. With Heuberger's past support for outdoor endurance events in Colorado Springs and Subaru's past support of mountain biking, we knew this would be a perfect fit. As a non-profit event, our mission is to create a world-class event that drives economic impact to the area in order to improve the trails and open space in the Pikes Peak region for visitors and residents alike. It is always difficult to get a new event off the ground and having Heuberger's support made it easier from the start. Not only were we able to raise money for trail projects in the Colorado Springs area, but we had Subaru Support riders out on the course making sure all participants were taken care of. Heuberger was a perfect fit for our four day challenge event and we can't wait until next year!
---
Heuberger supports Ice Fest, a niche community - Ange T
CityROCK has been hosting Ice Fest for 12 years. What started as a small gym's way to embrace the cold temperatures of their shared space with an ice hockey rink turned into an internationally known event that celebrates the scratch and dangle niche climbing community while raising money for a good cause. Ice Fest is a 3-day event with an all-are-invited adult competition, youth competition, clinics, vendors, demos, and a mega raffle with proceeds going to a charity. Last year, thanks to our sponsors like Heuberger Subaru, we were able to raise over $2000 for The Access Fund and The American Alpine Club. This year, our sponsors like Heuberger Subaru will allow us to raise money for Protect Our Winters through our mega raffle, and through participating with their interactive vendor booth, offering the dry tool ice bucket challenge. Each year, Heuberger Subaru shows up with an awesome challenge that interacts with our spectators and competitors, psyching them up for the event and the raffle. Community is the heart of CityROCK. Heuberger Subaru makes our community stronger through their partnership, helping us support causes we believe in like Protect Our Winters and nonprofits that take care of our earth.
---