VS.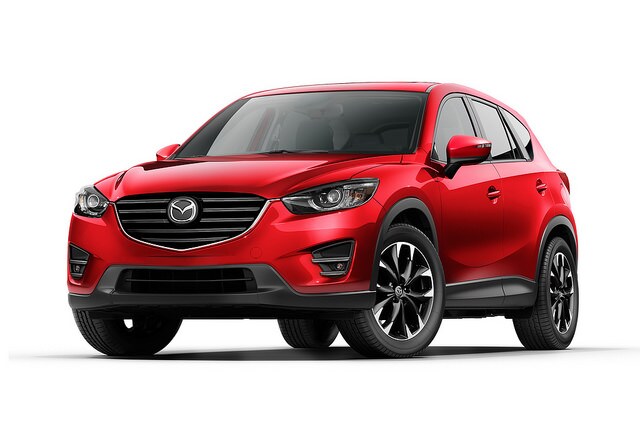 2016 Subaru Crosstrek              2016 Mazda CX-5
The new  2016 Subaru  Crosstrek comes with a sporty and rugged exterior, making it ideal for both off-road and city driving. This model comes with a range of great features, a roomy interior, and unparalleled performance. Best of all, the new Crosstrek is built with high-quality materials and design, dominating the competition - including the  2016 Mazda  CX-5.
What does the Crosstrek have that the Mazda CX-5 doesn't?
Performance
---
The Crosstrek comes standard with intelligent all-wheel drive, making harsh terrain and bad weather much easier to operate in. The Mazda CX-5, on the other hand, only comes with front-wheel drive, which means you get less performance.
Fuel Economy
---
Looking for better fuel economy? Check out the Crosstrek Limited. This model comes with a fine tuned powertrain, getting up to 26/34 (city/hwy) mpg. The Mazda CX-5 only get 26/33 (city/hwy) mpg. The Crosstrek's great fuel economy is a combination of factors, including its advanced Lineartronic 6-Speed electronically controlled Continuously Variable Transmission (CVT). Optimizing efficiency, the new Crosstrek is ideal if you appreciate performance and fuel economy.
Exterior
---
The exterior of the Crosstrek measures slightly shorter than the new Mazda CX-5, making it easier to navigate on tight city streets. However, the Crosstrek also has considerably more legroom in the front of the vehicle, demonstrating Subaru's superior design and engineering. It is also important to note that the Crosstrek is nearly 300 pounds lighter than the Mazda CX-5, showing just how efficient the Subaru's design really is.
Don't settle for less than the best - get the new Subaru Crosstrek today at  Heuberger  Subaru in Colorado Springs, CO.