Buy vs Lease

at Heuberger Subaru
If you're in the market for a new vehicle and want to understand the benefits of buying vs. leasing a Subaru, visit the experts at Heuberger Subaru. The Subaru sales and auto financing professionals at our Subaru dealership in Colorado Springs, CO, will conduct a thorough lease vs. buy analysis, so you can make the decision that's best for your needs. No matter if you're interested in buying a Forester, leasing a Crosstrek or financing a used car, our team will help you through every step of the process. And with exclusive Subaru lease and finance incentives available, getting the keys to a new Subaru you love is now easier than ever.
Buy or Lease a New Subaru near Me
Get a start on the car-buying or -leasing process by checking out the new Subaru inventory in person at our Colorado Springs dealer. If you don't want to have to think twice about your next road trip, buying a new Subaru Ascent may be a wise choice. Searching for a fuel-efficient Subaru Legacy that's perfect for your everyday commutes? If so, we have plenty of Subaru lease options that may be perfect for your situation. In fact, leasing a Subaru is ideal for Colorado drivers who want to upgrade every few years to a new Subaru model that's equipped with the latest features. Or, if purchasing your next vehicle is a top priority and you want to take advantage of exclusive Subaru ownership benefits, we recommend meeting with our Subaru finance team.
Still unsure whether leasing vs. buying a car is right for you? Browse our Subaru specials and view our buy vs. lease Subaru comparison chart below for more details.
| | Buying a Subaru | Subaru Lease |
| --- | --- | --- |
| Ownership | Pay for complete ownership of the vehicle and have its title in your name | Pay for use of your new Subaru and upgrade to a new model once the lease reaches its maturity date |
| Mileage Limits | No mileage restrictions | Mileage restrictions are determined by lease terms |
| Down Payment | Normally comes with a higher down payment | Subaru leases generally come with lower down payments and less money upfront |
| Monthly Subaru Payments | Typically higher monthly payments | Generally lower monthly payments |
| Subaru Maintenance/Wear | Responsible for any repairs not covered in your Subaru warranty | Required to get service according to the recommendations at Heuberger Subaru |
| Customization | Customize your Subaru as you please | Customizing leased Subaru models is prohibited |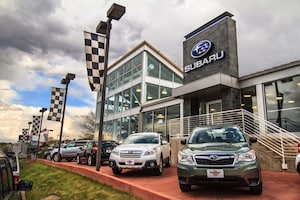 Heuberger Subaru
Local Auto Finance Center Offering Subaru Leases and Loans
Serving: Colorado Springs, CO
Local Phone: (719) 475-1920
Directions to Heuberger Subaru
1080 Motor City Dr, Colorado Springs, CO 80905