We are beyond excited to announce our participation as a founding sponsor of the Pikes Peak Apex. This Four-Day mountain bike race will take place on various well-loved trails here in the Pikes Peak Region and starts September 24th, 2020.
It's not often we get the opportunity to help start something so perfect for both our community and our customers. Even better, we're proud to support this event along with Presenting Sponsor RockShox, fellow founding partners, ASSOS and Circa Real Estate Group. More sponsors are still being finalized but we expect this race to attract wide community support.
The format of the race is a multi-day affair with four stages in all. Riders will all start in a single wave but chip timing will determine the winners. Maybe most exciting of all, the top 25 male and female riders will split $50,000 in prize money with a $100 bonus for daily overall winners (both male and female).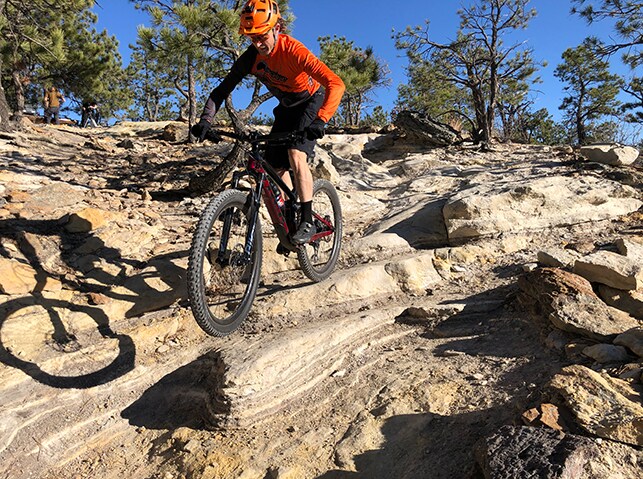 What Are You Getting Yourself Into?
Micah Rice, VP of Event Strategy and Operations, says the course places an emphasis on fitness over technique and bike handling skill. That isn't to say you'll be grinding gravel the whole way. Trail composition for each stage will include plenty of single track on trails familiar to local riders as well as plenty of gravel. Riders will be faced with selecting a bike for the race that plays to the terrain as well as their individual strengths and weaknesses.
Who Should Enter?
You should. The event is open to all riders who meet the requirements on the Apex website, though it will definitely be attractive to elite athletes from all over due to the big prize money up for grabs. So get your mountain bike tuned and do your research. Riders from the Pikes Peak region have a huge opportunity to be intimately familiar with all stages of the race since it's right in our back yard. You can research each stage at the Pikes Peak Apex website. Heck, why not just turn the stages into your personal training ground? Don't get too excited though because some portions of stages will only be open to the public during race.
Heuberger Support Riders
We've decided to create a special team of riders that you'll see during the race. Rather than send competitive riders out on each stage, we instead plan to have two "support" riders on each stage. Each rider will carry some potentially race-saving supplies for other participants. One will ride towards the front of the pack and one at the tail of the pack for each stage. These riders will be equipped with radios, some basic spare parts like missing links, tubes, tire patch kits etc. We'll update you about this as it takes better shape this summer.
Stewardship
According to Micah some proceeds from the event will go towards trail maintenance and improvement in order to minimize the impact to natural resources that can be caused by a race such as the Apex. Micah said, "I think this non-profit event will allow us to put even more time, effort and money into our trail system through the Pikes Peak Outdoor Recreation Alliance Trail Stewardship Fund and it will be a win for residents and visitors alike. Our goals with this event is to create economic impact for the Pikes Peak region and improve the trail system for all of us, and no doubt this event will be a huge step in that direction."
The race is open to riders of all fitness and skill levels but should attract a number of professional athletes from all over the world so it should bring some well deserved attention to our local mountain biking scene. According to Micah Rice VP of Event Strategy and Operations, this will be the largest mountain bike race ever held on the front range.