By Alex Gauthier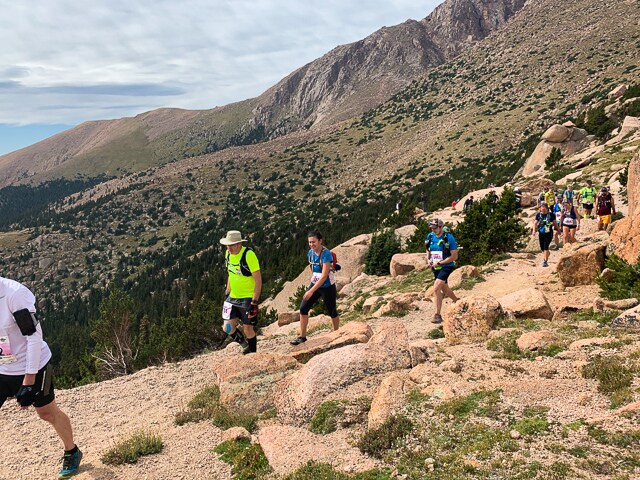 Well the end of the 2019 Triple Crown of Running anyway. What can I say? A great running season was had by the whole team I think. If you've kept up with the other posts about the running series you know that Heuberger Motors sponsored the event which we've done for quite a long time now. More than that, we also recruited a team of runners from the community to tackle all three races with us. I myself managed to finish all three events, though not necessarily in as fast of times as I was hoping… but now that the season is over, I do feel well positioned to do well in my ultimate goal for the year which is the Moab Trail Marathon in November.
Running Up a Big Ol' Mountain
The final race in the series, is the venerable and respected Pikes Peak Marathon and Ascent. The Ascent starts in Manitou Springs and finishes on the summit of Pikes Peak. It's just over half-marathon distance and has 7,815 feet of elevation gain over the length of the course. The marathon event simply reverses at the summit to finish in Manitou Springs. Calling it a running race might be a stretch formats athletes who enter since the amount of elevation gain plus the narrow trail means that running is only possible if you can somehow break out of the conga line that goes to the summit. That said, it's still a butt-kicker and is a destination race for many a flat-land runner as well as those of use who make Colorado our home.
The marathon is part of the Salomon Golden Trail Series, a prestigious series of races all over the worlds. Elite athletes from every corner of the globe compete in this series so it's pretty cool to see all these folks converge on America's Mountain for this race. This year many of us were speculating about whether Spaniard, Killian Journet would successfully topple the course record of 3:16:19 set by Matt Carpenter in 1993. Killian was more than ten minutes off that stunning and evidently indestructible record, however.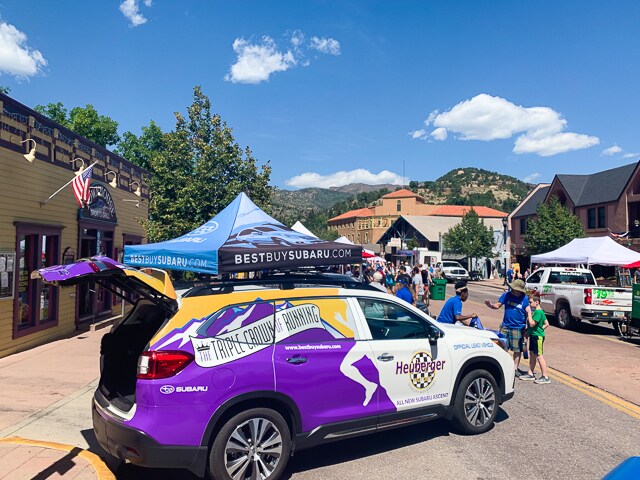 How'd It Go
It depends on how you look at it, I suppose. I managed to mostly get my plan together and execute it more or less as intended. I finished in 5:03 which wasn't quite what I hoped but still within my B Goal time limit. From a fitness perspective, I think I could have met my A Goal time of 4:44 except that I was in too late of a starting wave which meant I was packed in amongst other runners in the line to the summit. It's difficult to pass folks without bashing into them on a good chunk of the trail so that meant on sections where I could have gone faster, I was unable to. Trying to pass on the steeper sections of the trail is easier in that there are bigger spaces and more room but harder in that it's just hard to pass on steeps. On top of that, I encountered issues with trying to get enough calories. The gels and liquid calories that I packed proved to be unwelcome in my belly after a couple of hours so I didn't eat much for a good chunk of the race and that eventually took it's toll as I struggled not expel Chai Latte Gu shots onto the trail after Barr Camp. This race is also odd in that it's not like a "normal" trail race to me and sort of requires one to train for it specifically. Since I couldn't effectively target this race AND the Moab Trail Marathon, I wasn't in optimal condition for the Ascent which to me is more of a speed hiking goal with a ton of elevation gain. Next year, I do expect to do better now that I have a PR to try and beat as well as a better idea of what to expect.
The rest of the team did amazing. Jerks! Sheva Willoughby didn't break her PR on the course but was quite happy with her result post pregnancy and Ryan Chelstowski managed to do well and have a good time in his first Ascent race. Ryan Hewitt managed to finish in 3:30:31, a really fast time as well.