By Alex Gauthier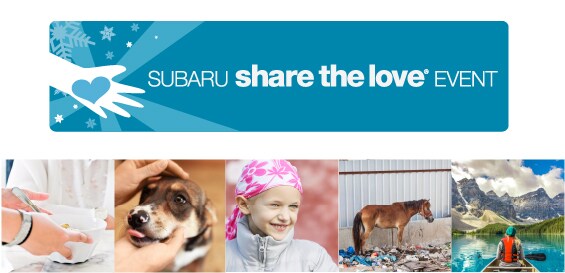 Well it's getting to be that time of year again– SHARE THE LOVE! Starting November 13 and running through January 2nd, when you purchase or lease a new Subaru, you'll be making a huge impact with one of five non-profit organizations.
Heuberger and Subaru of America will donate a total of $300 to the organization that you select when you make your purchase.
The Organizations
Humane Society of the Pikes Peak Region
We've worked with the Humane Society quite a bit int he past and they serve a vital role in the community to take care of wayward pets. Many don't even understand the true breadth of what this great organization does for us. Hint: It's a lot more than just making dogs and cats available for adoption!
Meals on Wheels
Hungry? No? That's because you are able to leave the house and care for yourself but there are many in advanced years, who are unable to do the same. These folks depend on Meals on Wheels to bring them healthy meals. In our community this could be your own grandmother, or that sweet old veteran across the road that seems so lonely to you.
ASPCA
The ASPCA was founded on the principle that animals are entitled to kind and respectful treatment at the hands of humans and must be protected under the law. They are the effective voice for animals and they could really use a hand with this huge mission.
Make a Wish Foundation
Make a Wish is an important part of treatment for critical illnesses for some kids. These children are more likely to comply with doctors orders, and potentially spend less time in the hospital- potentially turning a grim diagnosis around. Your donation can help make a wish come true for a child. You could literally save a life.
National Parks Foundation
National Parks are a truly American idea but this ideal is unattainable without support from the public. More than ever, our parks are under threat from a variety of sources both natural and man-made. You can be a part of making our national parks sustainable, available and possible for future generations to enjoy. Join Subaru in support of this wonderful foundation.
We are certainly involved in many events in the area throughout the year and are very pleased when we can make a difference to a local charity but by far, this is the premier opportunity during the year for you to partner with us directly and make a very significant impact with a local or national charity.
Taking part is pretty simple; just fill out a form to signal your giving preference when you purchase or lease a new Subaru during the Share the Love period. This costs you NOTHING, however $300 will go to the charity you designate. Don't worry, if you forget to choose a charity, we'll assign the funds later but it'll be divided evenly amongst the eligible charities. We much prefer when our customers make the selection themselves so we know that their wishes are being honored so please take the time to make a selection!