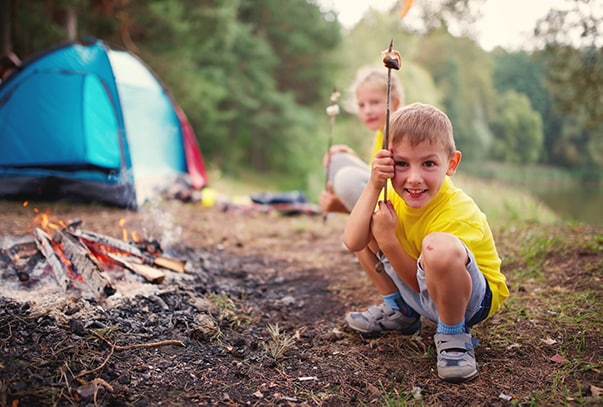 By Sophie Goodman
Camping with kids can be intimidating—what kind of snacks do I bring? How do I keep them safe? What if they can't sleep outside? We're here to tell you not to worry. With some advanced planning and a little bit of know-how, camping with kids can be one of the most memorable and fun experiences you can have as a family. Here are x nymber of things you should consider before heading out on a camping adventure with your family.
Car camping is the easiest way to make it all happen.
Let's face it, kids require a lot of extra gear. Depending on age and experience, they'll have a hard time carrying their layers and backpacks into the backcountry, so just save everyone the exhaustion and go car camping. You'll have the perfect base camp to return to in the evening after a day in the mountains, and if you forgot something (inevitable!), it's much easier to run into the closest town. So, pack everything into the family Subaru—food, sleeping bags, flashlights, rain jackets—and head out to your favorite dispersed camping spot for fun in the sun and a weekend away from it all.
Make the tent super cozy.
Temperatures can be cold in the high country, even in summer. Make sure everyone has sleeping bags rated to at least the expected lowest temperature. Also, don't forget your sleeping pads and bring extra pillows. You are car camping, after all, and a pile of pillows will make the little ones feel like they're sleeping in a cozy cave or fort.
Temperatures can vary a lot from day to night, so be sure to layer everyone up like you would if you were hiking early in the morning. Base layers, mid-layers, and a waterproof layer will do the trick for the early evenings, and don't forget to bring wool socks and beanies for nighttime. Camp shoes, like sandals with straps, are also a great added bonus after a long day in hiking boots.
Bring lanterns and headlamps.
Camping locations are often darker than the kids are used to at home. No light switches or electricity in the backcountry, so bring headlamps and extra lanterns to make the campsite super kid-friendly.
Prepare outdoor games and activities for down time.
Day time will probably be filled with outdoor adventures like hiking, biking, or kayaking, but the time before sunset and bedtime can drag on for kids who are used to toys and electronics. To prepare and avoid the whining, set-up a nature scavenger hunt, play flashlight tag, bring playing cards, and read books around the fire.
Bring first aid kits and supplies.
Let's face it, kids are prone to cuts and scrapes. Come prepared with a first aid kit and supplies to take care of minor scrapes on site. Also, don't forget the sunscreen and bug spray—there's nothing worse than a sunburn riddled with mosquito bites!
Teach kids about fire safety.
One of the pleasures of camping is enjoying a campfire. But it's important to teach kids about fire safety. A couple of suggestions to help kids enjoy the fire from a safe distance: 1) Give kids their own camp chairs that you situate at a safe distance from the fire, 2) draw a "fire ring" around the campfire over which the kids cannot cross, 3) Send them off on stick-collecting missions to keep them busy and productive.
Let them eat cake...Or s'mores

.
Camping is not the time to be a stickler about sugar. Make all the s'mores you can eat and then roast more marshmallows. Better yet, have a contest as to who can roast the best -- you'll have to decide whether you prefer a charred bite or golden brown masterpiece!
It's all about Leave No Trace.
Now is the perfect time to teach them about Leave No Trace. When you're out on your daily adventures, make picking up litter part of the activity. And when you're ready to leave the campsite after an amazing weekend, make a game out of leaving the space exactly as you found it so it's ready for your next trip.