For the past couple years, we've worked with Chicks Climbing and Skiing to send an amazing woman up big mountains. We love this scholarship program because it always identifies a deserving and hard-working female with aspirations for bigger things. Sometimes she needs camaraderie, sometimes a financial boost, sometimes just some missing skills to get her further down the path to personal success and growth. We're very pleased to be a stepping-stone on this path.


Here's a re-cap of this year's winner, Katrina Ray's successful climb of Mount Baker in Washington. Enjoy!
This One Time, I Climbed Mount Baker
BY KATRINA RAY
Katrina, is an Art Therapist, Nature-Connected Coach and Lifetime-Athelete
Winning the Subaru/Black Diamond Mt. Baker Alpine Climbing clinic package was such a thrill, and the clinic was exactly what I was hoping for and needed. My name is Karina Ray and I am a mountain girl through and through who always has an eye on my next goal. In fact, in early May, before I knew of the contest, I told friends that I was going to summit Mt. Baker in summer of 2018. Driving up to the majestic mountain to meet the group, I was a little nervous about things like how snow travel with a heavy pack would be, and if I brought the right layers for the glacial alpine environment. I felt overjoyed for the opportunity as Mt. Baker was the only volcano in Washington State that I hadn't been on. The experience is one that I will never forget and that will serve me in my future endeavors as a mountain runner and climber. My winning photo caption stated, "Not abuse, nor disease, nor age can stop me".
For the last four years I have been committed to mostly solo training in mountains, but I found myself lacking alpine skills last summer when I attempted to climb a technical PNW volcano. I'm a mother and I promised my son that I will come home to him after my mountain time. In order to continue growing competency in the alpine I needed crevasse travel skills, rescue skills, and ice ax use education. Content to slowly acquire skills, I kept aware of local affordable opportunities to learn and was immensely grateful for friends who offer to teach. However, we all know that learning from AMGA/IFMGA guides is a dream come true. Chicks Climbing & Skiing has some of the most qualified instructors and guides in the world. We had the good fortune of being taught and led by Karen Brockel and Lindsay Hamm.
On the first night at the campground we greeted one another, and then quickly got down to laying out our gear for inspection. The guides gave us generous goody bags by sponsors such as Petzl, Black Diamond, etc., which we happily explored and integrated pieces into our clinic kit. As inspection and packing happened we were able to ask questions, receive help, and listen to the reasons for why each item is worth hauling up the mountain as well as omit extraneous gear. As the river crashed over the rocks next to our tents that night I could feel the excitement amongst my fellow participants as well. I'd only known for two weeks that I won the trip, but my fellow lady mountain goats each had an awesome story of how and why they chose Chicks Climbing & Skiing. For me, it was grace that brought the contest win. I spoke of hoping to gain more confidence, skills, and team work experience.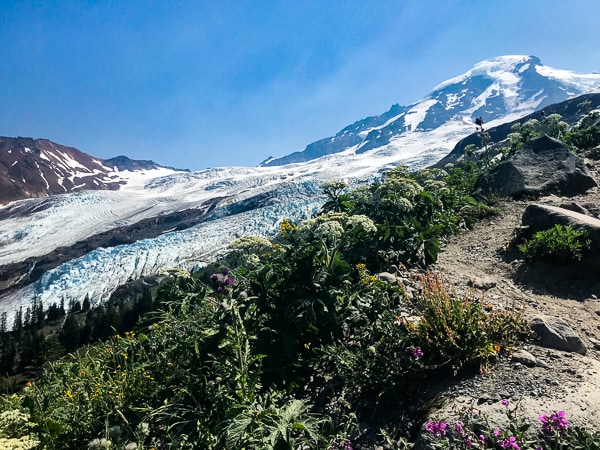 Flanked by wildflowers on the Heliotrope Ridge Trail, we started our first day on the mountain with the heaviest packs that we would have for the whole climb. I used an Osprey 50L Demo pack which would have pleased Goldilocks it was so "just right". Along the hike in we each flowed in and out of get-to-know-you dialogues with one another as we marveled at the myriad shades of green mosses on the trees. I could tell that we were going to all gel as each woman had a great sense of humor and diversity of knowledge. As the clinic continued it became more clear to me that the most amazing nature I observed wasn't the features of the mountain or its glaciers, but of the people who show up to face themselves on the mountain and glaciers. Each day I saw the strengths and struggles of these new friends, and they saw mine.
One of my struggles in life and sport revolves around eating. I am an endurance athlete who has celiac disease and multiple food allergies. Camping can be a nightmare because I eat a medical diet, and can't eat extremely common proteins. Chicks staff communicated well to keep me safe, but it meant I had to bring extra food for the meals that were otherwise provided for participants. I saw it as extra training weight and also tried to eat all the time since my fitness tracking device informed me that the calorie burn was extreme as were working much of the day and it was at elevation and in the usual alpine swing of temperatures. All in all, I lost a few pounds, but earned my "gluten free garbage disposal" nickname by the end of the clinic/trip. This trip was a nutritional win all in all! I was able to focus on the skill clinics, not on if I was going to get sick or not.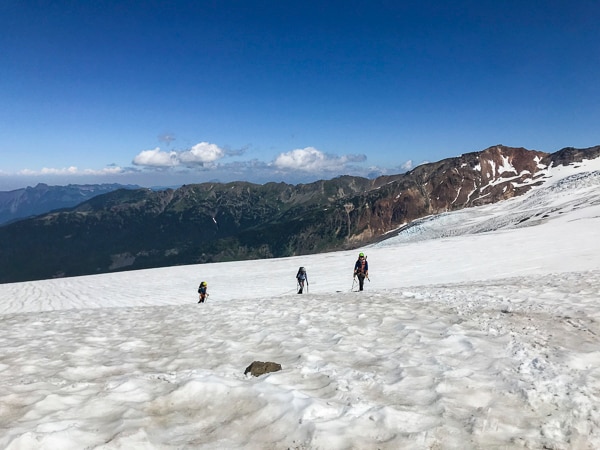 Each day's skills built upon the day before, and for this reason the trip gained in momentum as it progressed. I loved watching the excitement as summit day got closer. On breaks between skills classes we gazed up at the mountain, the buttes, blue glacial features, tiny brightly colored tents dotting lower camp below, and climber rope teams making their way slowly up the mountain. I reflected on how the dream of rising beyond my unchosen limitations in life were what brought me to this mountain. As much as the days were focused on skills, it was wonderful that there was time to connect to the bigger picture of how we all got there as well. Between learning basic knots, practicing self-arrest, and crevasse rescue methods we learned about what each woman loves about nature and what her future dreams are. We all wanted a summit, but that's not why were there. Growing into our strength and gaining confidence, solo and together, was the real "high" if you will.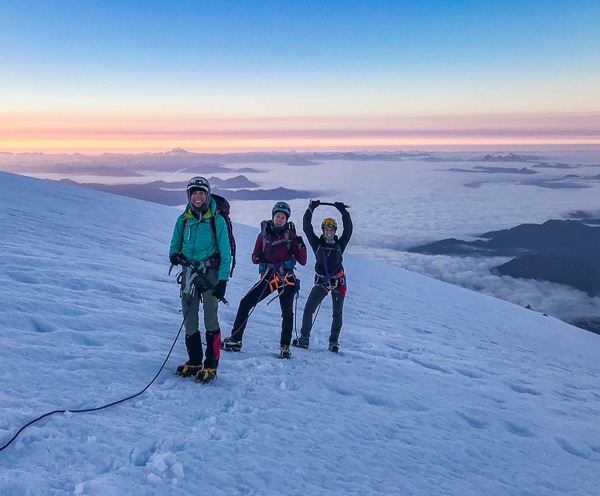 At high camp, near Black Butte, we slept on a glacier the night before our summit push. As literally cool as glacier camping is, I finally felt ok about bringing my zero degree down sleeping bag. As we fell asleep the night before summit, before the sunset, we all had on much of our gear for the morning, and were all ready to eat breakfast and roll out for an alpine start. I personally adore alpine starts so I fell asleep, in the tent also known as "glasses and retainers," with a practice smile for the summit. One of my other struggles in the alpine is staying warm enough so I brought my zero-degree, down bag, and I didn't regret it one bit for glacier camping. Having three climbers in our tent was also an advantage on a colder night at elevation.
Of all the memorable parts of the trip, I think the one that stands out most in my mind is the sound of the foot cadence of my rope team steadily ascending under the Milky Way in really good firmed up snow. The summit resolve was palpable, and we had established trust in the few days we had together. We had been loved (that's what teaching is) for four days by two master guides who only wanted our best, and gave us theirs. The goals for us were clear to the entire time, and I deeply appreciated it. Another jewel I took with me is the belief that we as women have all that it takes to reach our highest athletic goals in mountains or elsewhere. As we stood on the summit looking to nearby Canada and myriad surrounding peaks, we danced and smiled as only chicks can. My heart overflowed for gratitude to have been given this part of life's journey with these women, and for the generosity of the organization and the exemplary sponsors with whom they partner.