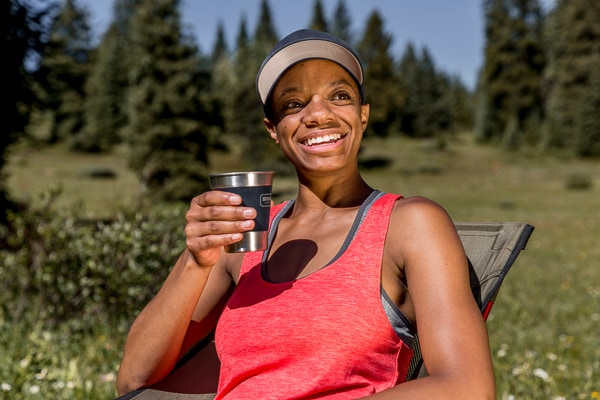 By Stephen Martin
STEP 1: FIND GOOD COFFEE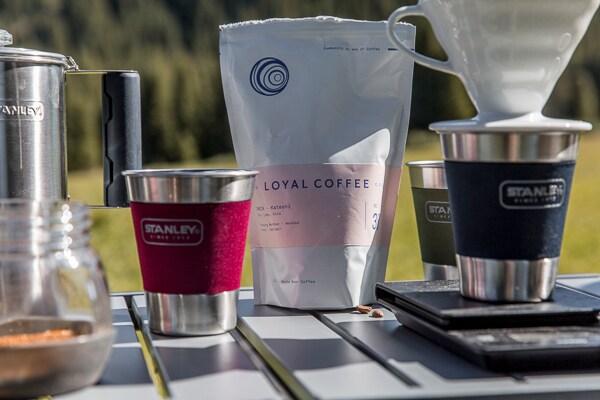 So you've collected all your gear, cups, filters, grinders, scales, and more… all that's left is finding great coffee. Sourcing good coffee can be difficult, but a rule of thumb is to search for a coffee roaster dedicated to the art of high-quality coffee making, also known as a 'Third Wave' coffee roaster.
STEP 2: WEIGHT IT OUT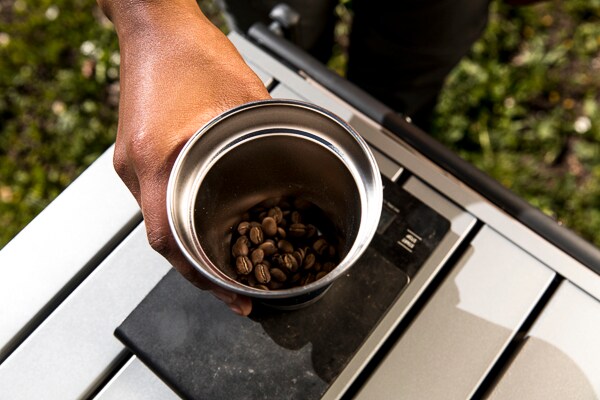 Coffee is an art, and it starts with precision. Take your cup, and weight out your beans. The standard ratio of water to beans is 16/1. So, 18-20g of coffee would mean somewhere around 300g of water.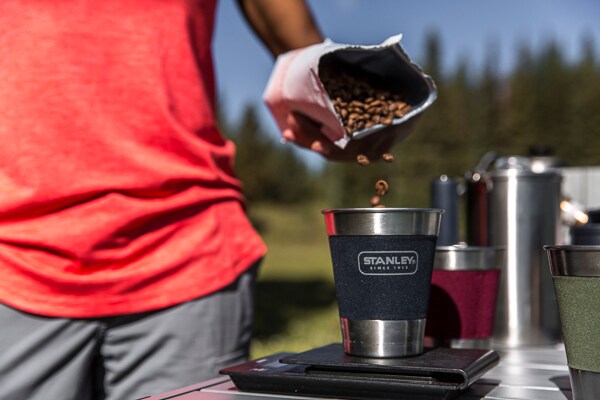 Good hardware is usually needed to support good coffee. Check out Stanley's camping line up for some quality products for all your cooking and camping needs. Also, a Hario scale is a good bet to measure out everything through each step.
STEP 3: HEAT SOME WATER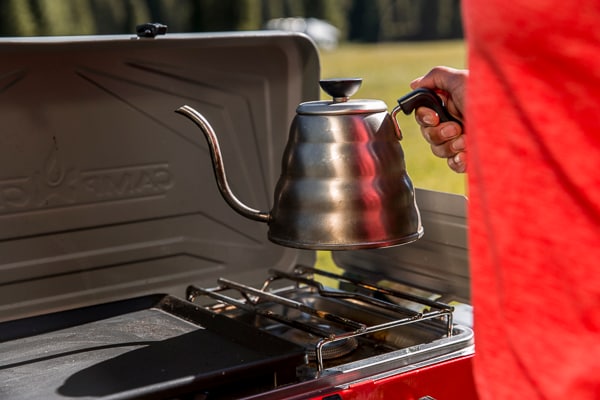 Everyone likes their coffee hot, so finding a good stove like Camp Chefs' camp stoves will help you achieve that perfect water temperature, and as a bonus, you can cook some breakfast in the meantime.
STEP 4: GRIND IT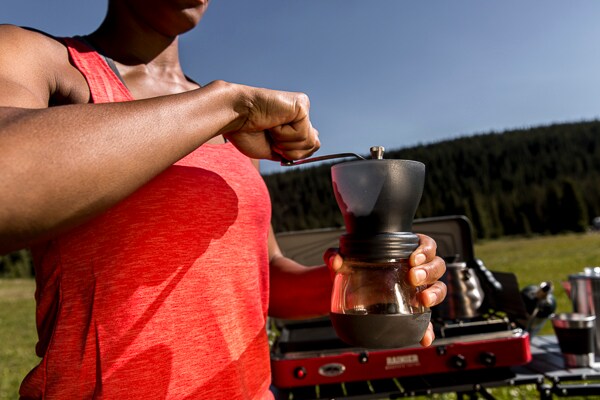 A hand grinder will get you through the next step, just pop the beans and look for a good medium grind; not to course, not to fine. Take your hand grinder to your local coffee shop if you want some help dialing it in before you head out into the backcountry.
STEP 5: RINSE AND PREPARE FILTER
You've made the choice to go all out on car camping coffee, so bring along a v60 pour over system to make the best 1-cup you've ever had in the woods. Make sure you fold back your filter to keep it flush in the funnel.
Place everything on your scale; filter, v60, cup.
Rinsing the filter is key. This helps prep the filter so it doesn't shock the coffee. Don't forget to dump the water out from the cup before you move on to the next steps.
STEP 6: ADD COFFEE AND PREPARE TO POUR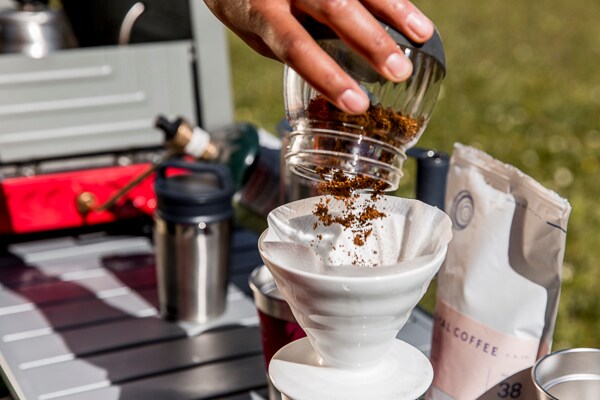 Drop your coffee into the wet filter.
STEP 8: TARE THE SCALE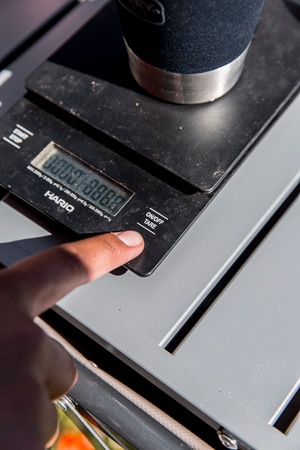 This could be the most important step, so don't miss it! You've got everything ready. Your filters are prepped, water is hot, and your coffee is ground and ready. Make sure you zero everything out, as it will be important in making sure you use the right amount of water.
STEP 8: START THE POUR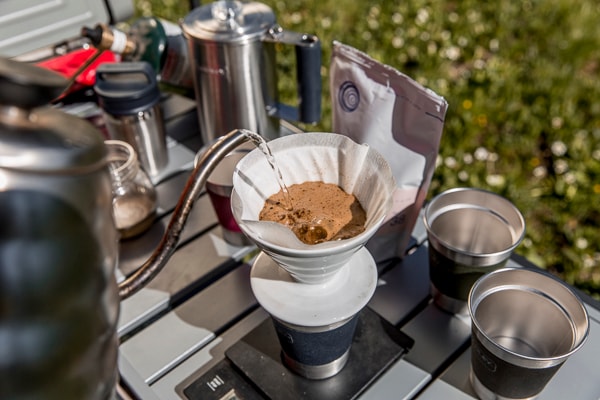 Hit the timer, and let's go! The Bloom is how it all starts. Using your kettle, pour about 60 grams of water to saturate the coffee. Watching the timer, let the coffee "Bloom" for around 30-45 seconds.
STEP 9: COMPLETE THE POUR

A good thing to remember here is not to rush it. Once you start pouring again you want to keep the stream slow but steady, and keep the stream pouring in a slow circular motion until you reach the desired final water amount. Again a good rule of thumb here is just take it up to 300g, and you'll be golden.
STEP 10: IMBIBE AND ENJOY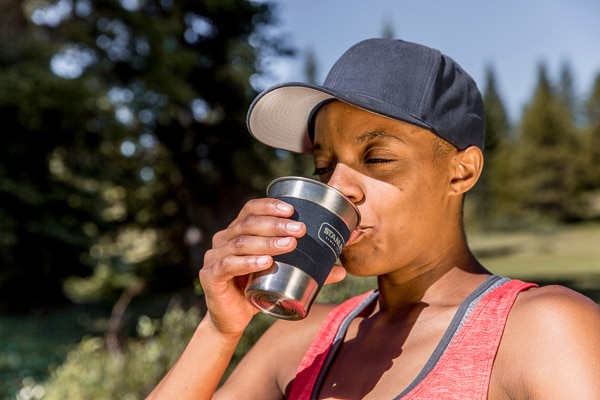 You've put in the work, but if you love good coffee, then trust us, it is worth it!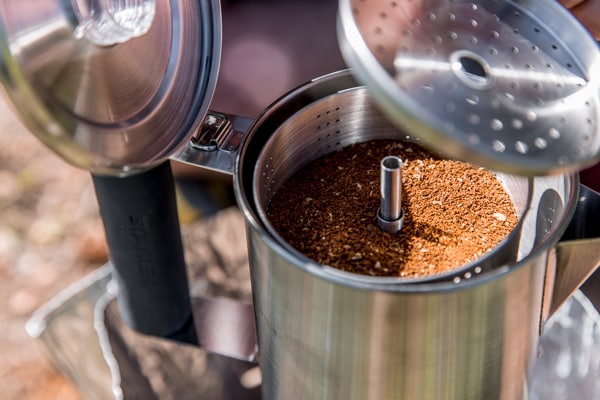 Check out other camp coffee options also to find the perfect method for you. Products like Stanley's Coffee Percolator could be great for you and is dead easy to use, especially for those who want to make a large volume of joe without too much work.
It's not a bad idea to bring along a super fast stove that just blasts water to bring it to temperature quickly while the main camp stove is being used for prepping other meals. Many Iso-Butane stoves from MSR, Jetboil and others will boil enough water for your coffee in just a minute or two depending on your elevation.

RELATED CONTENT